Thank You For 11 Years!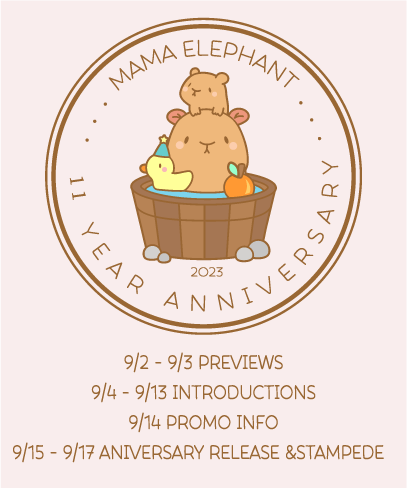 Hi all, Kryssi popping in with a special message! Welcome back, we hope you had an amazing Summer! It's September 1st which means it's the official kick off of our return and our annual celebration release. 
This year, Mama Elephant celebrates 11 years of this small mom and mom business! That's 11 years worth of grinding out designs, creating together and sharing with people from all corners of the world!Whether you have been with us since 2012 or you're new to us, THANK YOU. 
To our Design Team, past and present, for consistently bringing our art to life and inspiring a whole community of crafters, thank you! 
To all our friends and family that have sacrificed and supported us along the way, thank you! To all our customers, as I'm taking this moment to reflect, I have to say with everything that's going on in the world, with your support, we are still here doing what we love ~ thank you! 
And of course to my partner and lifelong gal pal, Angela, thank you, you're the best! 
Keep your eyes peeled and your devices tuned into our social media accounts as our Design Team will be sharing all the wonderful new September goodies. We will also be joined with some special friends to help celebrate and share the inspiration! So excited to see what everyone's been cooking up!
8 Responses
Leave a comment
Comments will be approved before showing up.