Mama Elephant 10th Year Birthday Crafting Challenge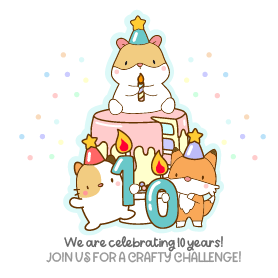 Mama Elephant 10th Year Birthday Crafting Challenge
Domestic and International crafters welcome! Post your projects in DISCORD
(me-challenge channel), INSTAGRAM and/or FACEBOOK (friends page).
Use the hashtags #ME10YRAnniversary #mamaelephant
SUBMISSION DATES: Now to 9/1/2022
THEME: It's Mama Elephant's 10th Year Anniversary! Everything goes! Create a birthday, celebration, anniversary, or just for funsies card for our celebration! We are celebrating YOU for being with us for the last 10 years!
Here are some basic rules:
You must primarily use Mama Elephant products. Using other company products is allowed.
You must include the Mama Elephant product(s) used, but only a snippet. Bonus points if you show the Mama Elephant name or logo!
Good photography counts! So make sure you use good lighting!
Multiple projects allowed. (By entering, you give Mama Elephant permission to use your project photo. Please include your Instagram handle if you have one!)
10 winners across all platforms will receive a gift card (for a free stamp set $16USD value) to the Mama Elephant shop! Just in time to shop at our Anniversary Release! Winners will also be featured on our social platforms during our celebration event!
Encourage your fellow crafters with reactions and emotes on their projects! Let's spread the love!
Leave a comment
Comments will be approved before showing up.