Little Superhero Agenda with Mette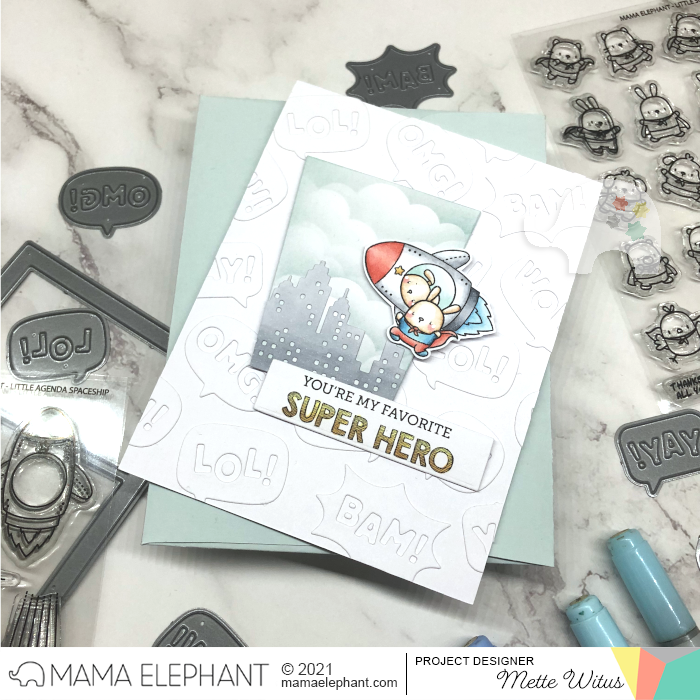 Hello! Mette Witus here today with an adorable hero card featuring the new Little Superhero Agenda stamps and Slim Comic Cover Creative Cuts.
I started by stamping the Little Superhero Agenda bunny on some white cardstock and some masking paper. I masked off the bunny and then stamped the spaceship from Little Agenda Spaceship as if he is holding it up or pushing it. Of course I added the little bunny inside the spaceship too.
Then I colored in the spaceship and superhero, then cut them out using a pair of scissors. If you don't like cutting them out, you could stamp them separately and use the matching dies.
To create a city for the spaceship to be lifted above, I used one of the wonky pieces from inside the Slim Comic Cover. On that I ink blended a whole bunch of clouds to create a sky.
Then I colored some cardstock with my Copics, making it darker grey at the bottom and lighter at the top. I used the Cityscape die to cut out a city border to fit on the wonky piece.
I really wanted to make a fun but simple background for my little hero, so I cut out a whole bunch of the speech bubbles from Slim Comic Cover in white cardstock. I glued all of these to my card base, including the tiny pieces inside the letters such as O, A and B. If you want to make a colorful background you could even cut the speech bubbles from colorful cardstock and inlay the letters.
For my sentiment I stamped and colored one of the sentiments from Tiny Heroes, then cut it out using the small rectangle from Mega Flipper.
Finally, I glued the wonky sky and city piece to the card base, then popped up the sentiment and the superhero using some foam squares.
Mama Elephant Supplies:
Little Superhero Agenda Stamps & Dies
Little Agenda Spaceship Stamps & Dies
Slim Comic Strip Creative Cuts
Leave a comment
Comments will be approved before showing up.