Little Llama Agenda with Jennifer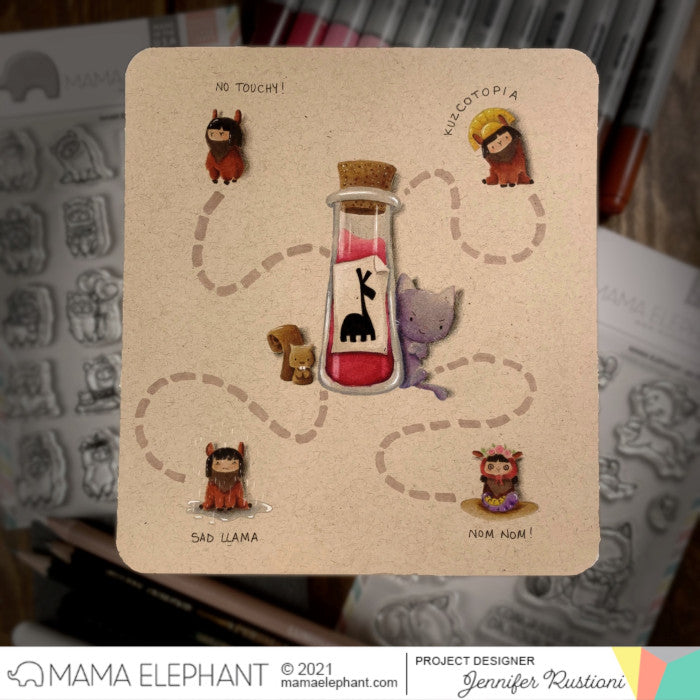 Hi everyone, Jennifer here today to show you my DS project, feauturing the super fun Little Llama Agenda stamp set!
Maybe you don't know it, but I'm a super Disney addict and when I first saw this set, I immediately thought of the Disney cartoon "The Emperor's New Groove". So, I couldn't resist and I turned the little llamas into the Kuzco character to relive his adventures, with these fantastic stamps.
As usually, I started drawing a sketch for my project and I choosen to use also My Pet Kitties stamp set, to create Izma and Bucky the Squirrel characters. I drew the poison bottle ("The poison for Kuzco, the poison chosen especially to kill Kuzco, Kuzco's poison. That Poison?") in the middle of my kraft cardstock and then I stamped the Izma-cat and the Squirrel (I turned the little mouse into a squirrel, changing his ears and adding the tail).
I choosen four llamas from the Little Llama Agenda stamp set and I stamped them in the corners of my cardstock, and then I coloured them with Copic Markers. I've try to create four little Kuzco to relive some funny cartoon scenes.
So, the first llama is saying "No Touchy!", and he's so serious and annoied!
The second little Kuzco is wearing his golden crown, dreaming Kuzcotopia.
The third llama is crying under the rain, as in the first scene of the cartoon. Poor sad llama!
And the last Kuzco is disguised as a woman, with a succulent bug to eat. But you know, just because Timon and Pumbaa eat bugs, doesn't mean every other Disney characters has to...lol!
Well, I really enjoyed creating this project, and this is futher confirmation that the Little Agenda Series stamp sets are really cool and create endless possibilities to make fantasy fly.
I'll hope my project inspire you! Thanks for reading and I'll waiting for you the next month.
Boom baby!
1 Response
Leave a comment
Comments will be approved before showing up.