Flower Shower with Mette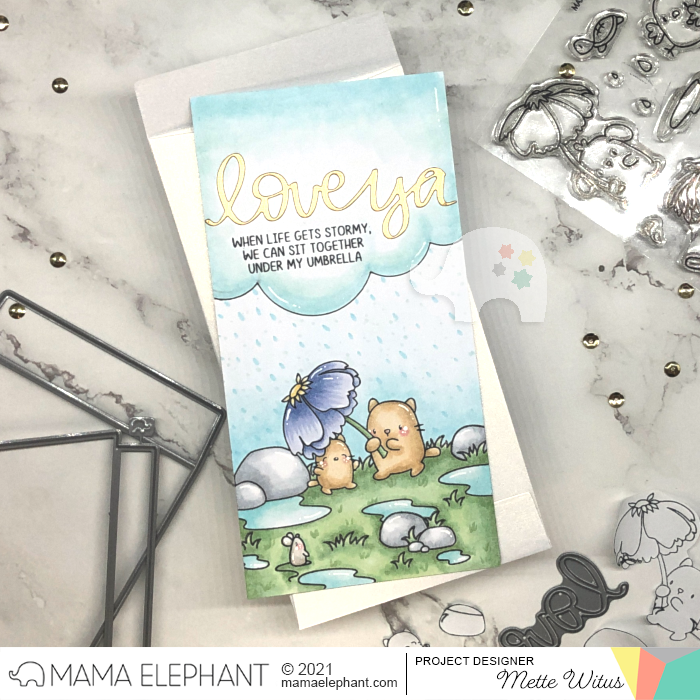 Hello! Mette Witus here today with a cute mini slim card featuring the new Flower Shower stamps – Joined by a Little Cat Agenda friend under the umbrella.
I started the card off by cutting a piece of white cardstock to 6 1/8 x 3 ½ inch and made a card base to match (7" x 6 1/8" scored at 3 ½ on the 7" side).
Then I found the stamps I wanted to use to create my little puddle scene and laid them out.
I used the following sets:
Flower Shower for the big cat and the stamped sentiment
Little Cat Agenda for the little cat
Love Ya Script CC for the die cut sentiment
Ella & Friends for the Mouse and pile of stones
Mermaid Kisses for the bigger stones
Pix's Favorites for the grass.
I also used a die cut cloud border from Slim Card Basics to draw in the cloud border under the sentiments using a copic safe fineliner.
Before I even started stamping out the scene, I made my masks – on the photo above you can see how many masks I used, which were mainly the cats and the stones.
Since I already had my masks ready before stamping, putting together the little scene was rather quick – just be careful to remember to place the masks before stamping (I might have had to start over once because I forgot a mask)
I colored in the scene with my copics, adding the rain drops by making dots with the brush marker at an angle. Then I glued it to my card base.
For the sentiment, I cut out the Love Ya Script CC using some gold cardstock and glued it to the card. If you want a true one layer card, you can simply choose a different sentiment.
Finally, I used the Money Envelope CC to create an envelope that perfectly fits the card.
Mama Elephant Supplies:
Little Cat Agenda Stamps & Dies
Leave a comment
Comments will be approved before showing up.