Flower Friends with Mimi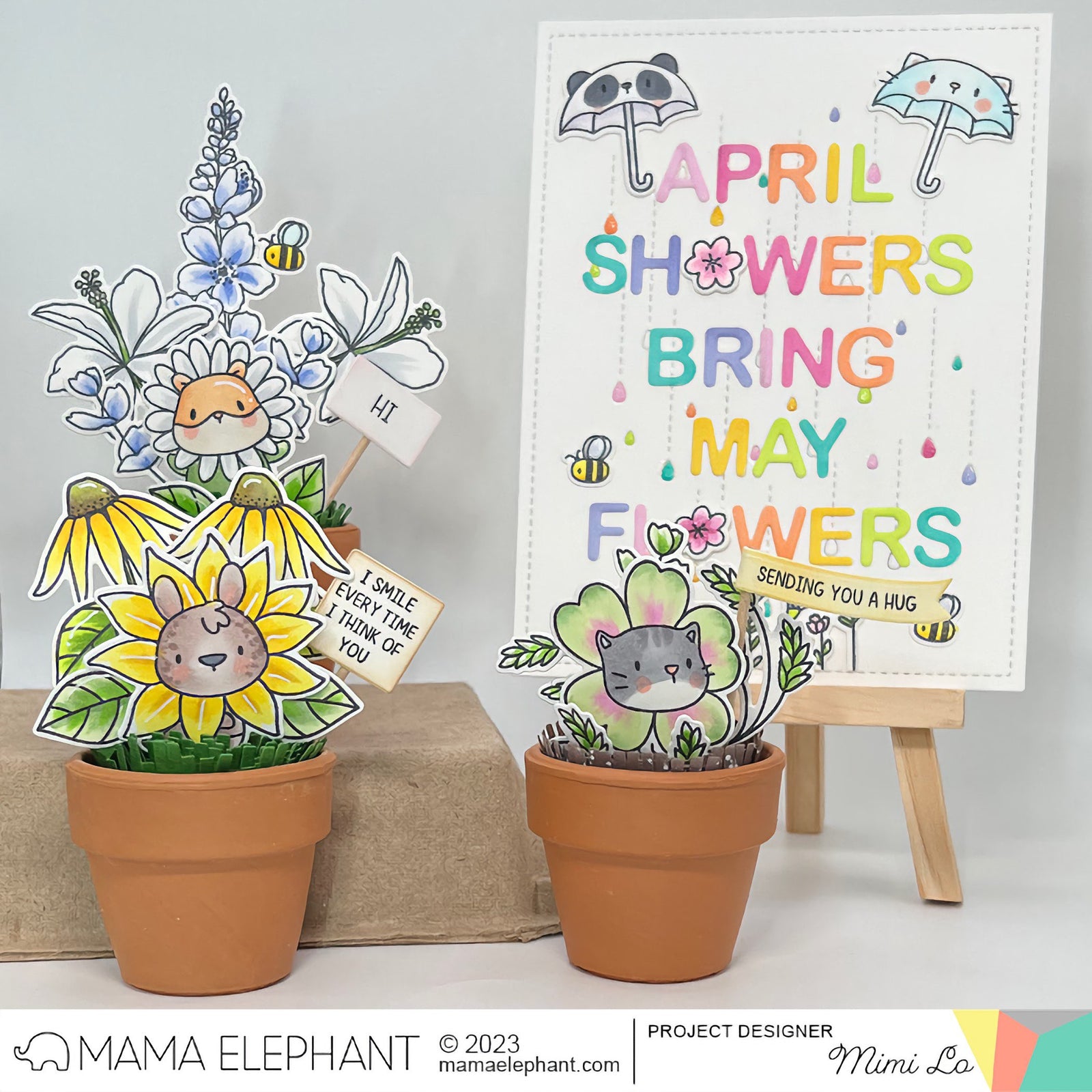 Flower Friends with Mimi Hi there, Mimi here with a fun little project using the Flower Friends stamp set. I was so excited to make these little flower pots when I saw those Mama Elephant flower critters. I had some mini clay pots stashed away so I knew those were perfect for this. The size of these pots are about 2 inches in diameter and you can purchase them at any hobby store.
These directions are for ONE flower pot so if you want to make more, just repeat. Let's get started!!
-I first stamped the flower friend critters and the leaves from FLOWER FRIENDS and flowers from MORE BLOOMS. I colored, die cut with their coordinating dies and put them aside.
-To get the grass, I used the FRINGE Creative Cuts (if you don't have this, you can use any grass die cut or make your own fringe strips). After I die cut about 5 strips (per flower pot), I randomly snipped the edges off to give it an uneven look. With the first strip, I formed a circle wide enough to fit within the flower pot. I continue to make more circles with the other strips, each one smaller than the last to fit so they are nestled.
-To make the flowers stand up, I cut a circle out of card stock to fit in the middle of the clay pot (I just estimated the width). I also cut two strips of acetate, one for the flower friend and one for the background flowers. I bent the ends of each acetate strip and glued them to the circle one in front of the other. I then placed the circle in the pot and started to fill it with the circle fringe grass pieces until it looked full.
-Lastly, I glued a flower critter to the front strip of acetate and the flowers behind it. That's it! Repeat if you want to make another flower pot. With the cat flower critter, I made it to look like a succulent so instead of the green grass, I cut strips of brown to mimic dirt. I also splattered the brown strip with white ink. I added little signs of messages to each pot. The sentiments are from THINKING OF YOU.
To make the April Showers Bring May Flowers card, I die cut the letters from LETTER BOARD Creative Cuts. I colored the letters with Copics markers in rainbow colors. I substituted the Os with the flowers from RAINY DAYS. Next, I die cut the RAINDROPS COVER Creative Cuts and randomly colored the raindrops in the same rainbow colors. I aligned and glued the words. Lastly, I added the umbrellas from RAINY DAYS, the bees and flowers from FLOWER FRIENDS.
I hope you enjoyed this little project and thanks for stopping by!
3 Responses
Leave a comment
Comments will be approved before showing up.