Everyday Monkeys with Guest Designer Davina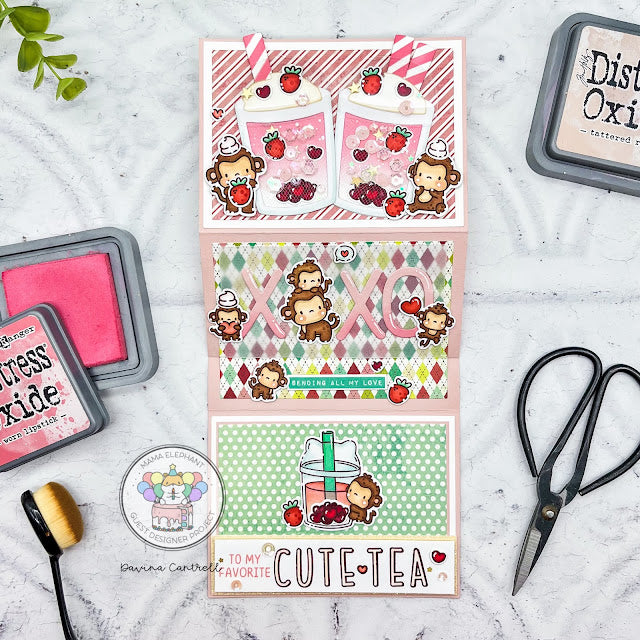 Hello crafty friends! Davina here with a sweet monkey filled easel card. I've made a few of these unique cards before and I really enjoy them. I like that they are like 3 little cards combined into one. I used images from 4 different stamp sets, and 3 stand alone die sets, to bring this card to life.
The size of your image panels determines the size of your card. I wanted to use the B2B Rectangles to create my layers, so I selected the 4th die as my base size. I knew that I could fit 3 on a standard 8.5x 11 piece of colored card, with some room for a boarder. I selected some old patterned papers from my stash and a piece of coordinating colored cardstock to begin.

Trim your colored cardstock to 4 3/4 X 10 5/8. Along the length score at 3.5, 6, and 7.5, then fold the first and third score line in a Z formation. Use a bone folder to get those folds really well. Then fold the middle score line in the same direction and the one right underneath. This will create the easel, and allow the finished card to prop open. Cut some layered panels from decorative paper using the B2B Rectangles, and adhere to the first and third sections. You can decorate the center area directly onto the colored card, or add a single piece of patterned paper. If adding paper as I did here, score the bottom portion where it will line up, and only add adhesive to the top and bottom of the panel. It will need some fiddling to open and close properly, but it looks cute both ways.
I stamped many cute monkeys, heart shaped boba pearls, and strawberries, with brown copic friendly ink, to fill this card. I used images from Everyday Monkeys, Boba Tea, Little Monkey Agenda, and Milkshake. I colored everything with copic markers before cutting out with the coordinating dies. I made two little Boba Tea mesh shakers for the front top panel using the Boba Shaker Combo CC. The flat mesh shakers are a great way to add some excitement, without a ton of bulk. I simply outline the backside of the window with 1/8 inch scor tape, apply some mesh, then add another layer of 1/8 inch scor tape (trim away the extra mesh after securing with scor tape). After inking the base of the cups, I adhered the heart bobas and a strawberry in each cup and added a little pile of sequins, before closing up the mesh shaker and topping with more goodies.
For the center area I used some Whimsy CC die cut letters to spell XOXO, and surrounded with more cute little images. It's important to make sure that nothing extends over that score line.
Finally, for the bottom panel I used a large Boba Tea image that also had a cute monkey, but I adhered the hearts on top of the pearls so it matched my shakers from above. I like to make a popped up sentiment to act as a stopper/place holder for the easel portion. I loved the sentiment from Boba Tea, but I stamped the word Cute-Tea,with the large Color Me Letters stamps, on a white strip that I backed with glittery champagne cardstock and popped onto some foam tape. Now, when I want to display this card it holds itself into an upright position.
I hope you like this card as much as I do, and that you follow the tutorial to make an easel card of your own! Thank you so much for popping by, Davina
Leave a comment
Comments will be approved before showing up.