A Capybara Christmas withh Davina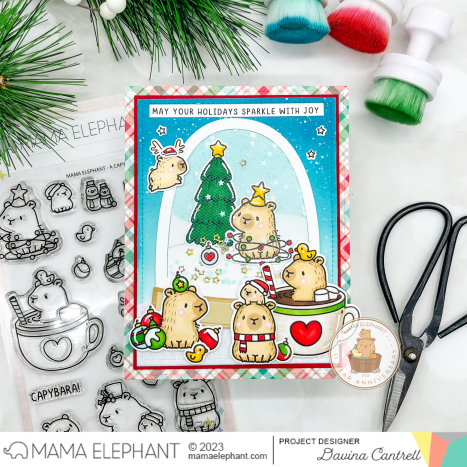 Hello crafty friends! Davina here to share my Mama Elephant Designer Series project, using adorable products from the 11th Anniversary release. I made a winter scene with flat mesh shaker using the Arch Snow Globe and the cute A Capybara Christmas Stamps and Creative Cuts. 
I started by building my snow globe and inkblending the parts and pieces. Once getting the background piece assembled with the snow drifts, I stamped and colored images from 
A Capybara Christmas
. I wanted a tall tree so I stamped one using 
Busy Elves
. I adhered the tree and a capybara onto the snowdrifts then placed a pile of small flat star shaped glitter in the center. On the backside of the snow globe front, I outlined 1/8 inch scor tape. I removed the paper liner and adhered a piece of mesh tulle, making sure to really secure the mesh into the glue. Then I added a second layer of tape over the mesh before trimming the tulle around the globe. Once that is complete I layered it onto the glittery background. The stars move around, but the card is not as bulky as a traditional shaker, and mails much easier. 
I arranged my snowglobe onto a glitter cardstock snow drift and surrounded the base with cute Christmas themed capybaras and ornaments. The top was looking so neglected and empty so I created a tiny capybara with reindeer antlers using two Little Agenda sets, 
Little Capybara Agenda
 and 
Little Reindeer Agenda
. I placed him flying over the snow globe and finished it off with an 
Easy Xmas
 sentiment strip and a few stars. 
I layered everything onto some Christmas colored plaid patterned paper and think its just the cutest. I love how well everything came together and hope that you do too. Thank you for stopping by, 
Davina 
Leave a comment
Comments will be approved before showing up.